What a crazy market it's been recently…
I mean stocks are close to highs… and right now it seems as if everyone and their brother are betting on the economic recovery.
Heck, Hertz Global Holdings (HTZ) traded above where it was before declaring bankruptcy on Friday.
At these levels, there's one key indicator that I want to focus on…
The money flow.
You see, I'm a firm believer in following the financial institutions and other professional traders because it allows me to effortlessly generate trade ideas.
The way I like to follow these players is by looking at the dark pool activity.
Today, I want to reveal to you 3 stocks that came up on a dark pool scanner I use…
On Friday, I noticed some interesting activity in the dark pools…
And that signaled to me I should keep these stocks on my watchlist this week.
The first stock I saw pop up on the proprietary dark pool scanner was Upwork (UPWK).

On Friday, it first time I saw this name on the scanner in a while. It seemed to be breaking to the downside on an hourly squeeze… however, I will set an alert for it with a break above $12.79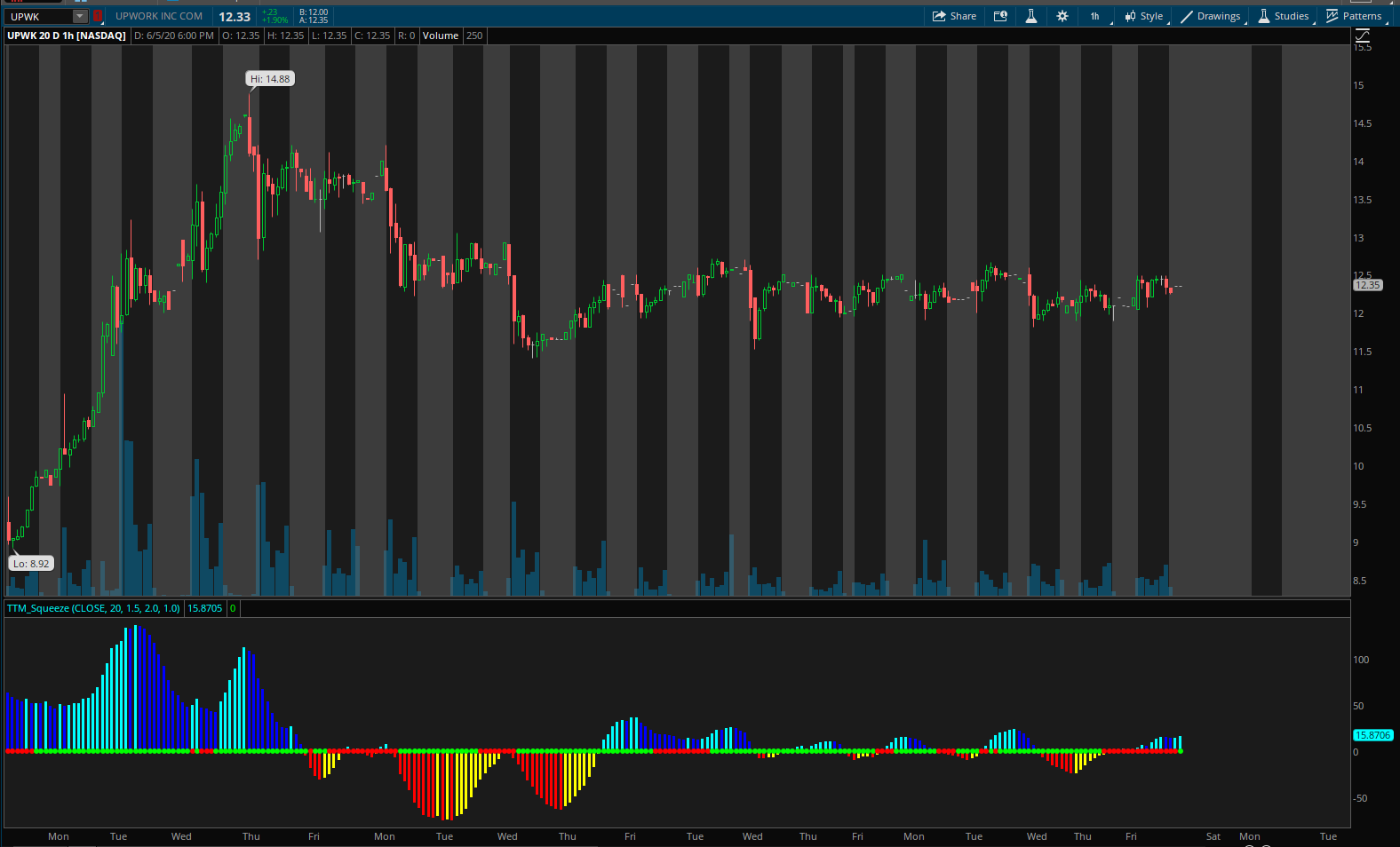 Source: thinkorswim
Right now, UPWK is consolidating, but it does have a bullish setup… and with this dark pool activity, I think there's a chance this stock could get to recent highs just under the $15 level.
The next stock that popped up was Pinterest (PINS).

PINS has hit the scanner for several days in a row now and is looking like it's at a good price as it pulled back to the 21 exponential moving average (EMA) on the hourly.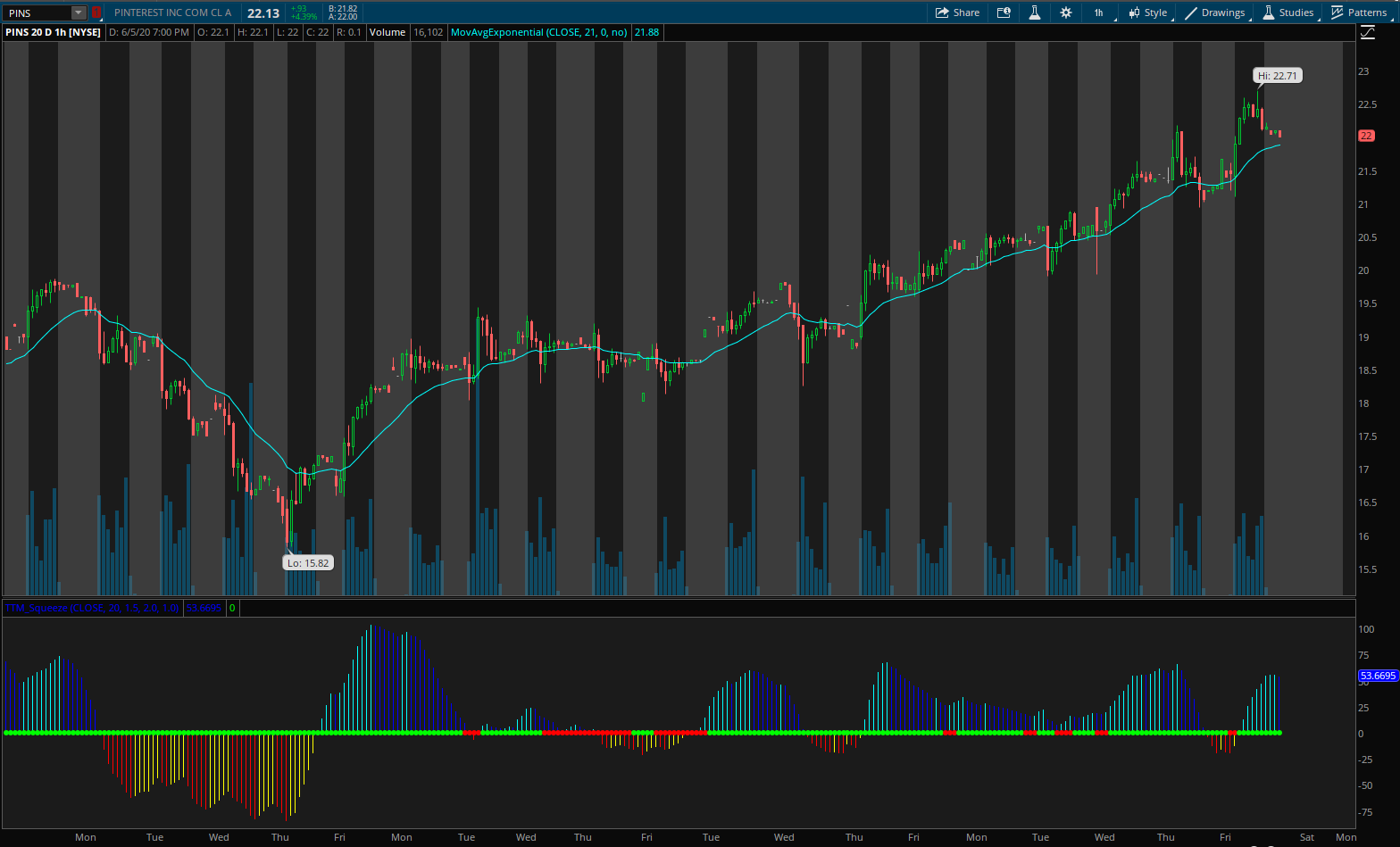 Source: thinkorswim
With PINS in a strong trend higher… I think it may have some support at the 21 EMA, and I'll be keeping an eye on this stock for a potential bullish play.
If I do decide to make a move, I'll most likely look to calls.
Last, but not least…
Wells Fargo (WFC) is on my radar this week.

The financial sector has been very strong of late and did well yesterday. I like WFC at these levels as it showed up on the scanner 5 times on Thursday and I'm looking to get into the July 17 $30 Calls.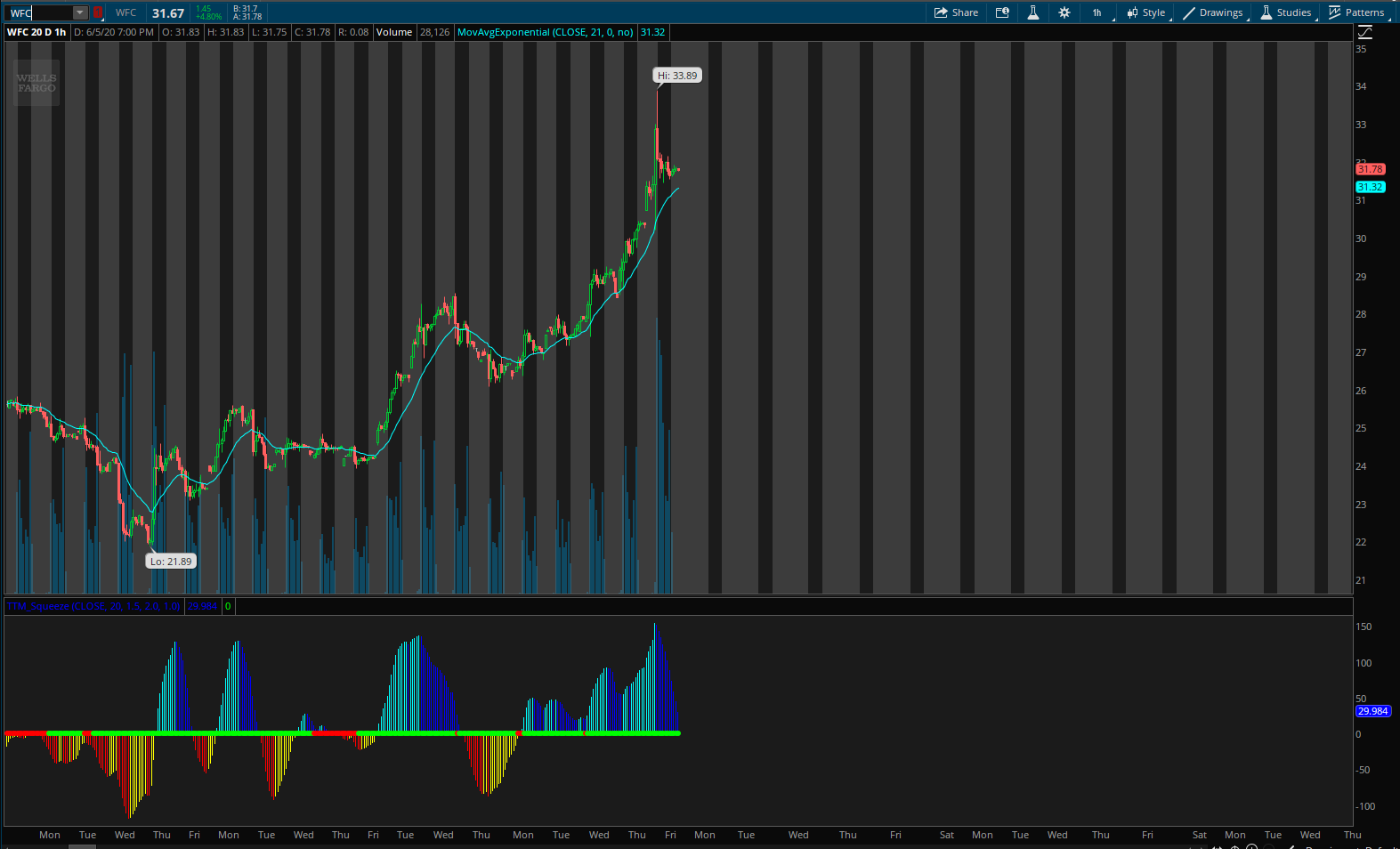 Source: thinkorswim
If traders continue to pile into financials, I wouldn't be surprised if WFC breaks above recent highs.
Now, I'll continue to look at the dark pool activity scanner to try to find out where the financial institutions may be placing their bets… and I'll let you know if I notice any interesting setups.
WE MAY HOLD SECURITIES DISCUSSED. RagingBull has not been paid directly or indirectly by the issuer of any security mentioned in the Services. However, Ragingbull.com, LLC, its owners, and its employees may purchase, sell, or hold long or short positions in securities of the companies mentioned in this communication.
DISCLAIMER: To more fully understand any Ragingbull.com, LLC ("RagingBull") subscription, website, application or other service ("Services"), please review our full disclaimer located at https://ragingbull.com/disclaimer.