What a wild week…
Stocks witnessed their worst 1-week performance in the last three months.
Come tomorrow, I think traders will scramble to find trade ideas…
Pile into random positions…
And potentially take it on the chin.
For me personally, I'm remaining patient and letting the trade ideas come to me… and I think they're some of the best out there.
Why?
Well, the trades I'm looking at are typically placed by the financial institutions, hedge funds, and professional traders and investors…
What the street likes to call the "smart money."
I look at the dark pool activity to come up with trades ideas…
And today, I want to reveal to you my process to identify them… as well as one trade I'm in right now.
When it comes to finding the "smart money" trades, I look at a proprietary dark pool scanner.
Basically, it lets me know where the big money players are placing their bets.
Now, just because I know where they're placing their bets…
That doesn't mean I just follow blindly.
In fact, I actually have a process when I want to get into these trades.
For example, on Thursday, I saw some dark pool activity in Moderna (MRNA).

Here's what I sent out to subscribers on Friday.
MRNA pulled back after a quick morning run yesterday but didn't fall apart. They are still a name out there in the running for COVID-19 treatments. This has potential for a bounce.
For me personally, I like to pair the dark pool activity with the charts.
For example, on the daily chart… the TTM Squeeze is starting to fire.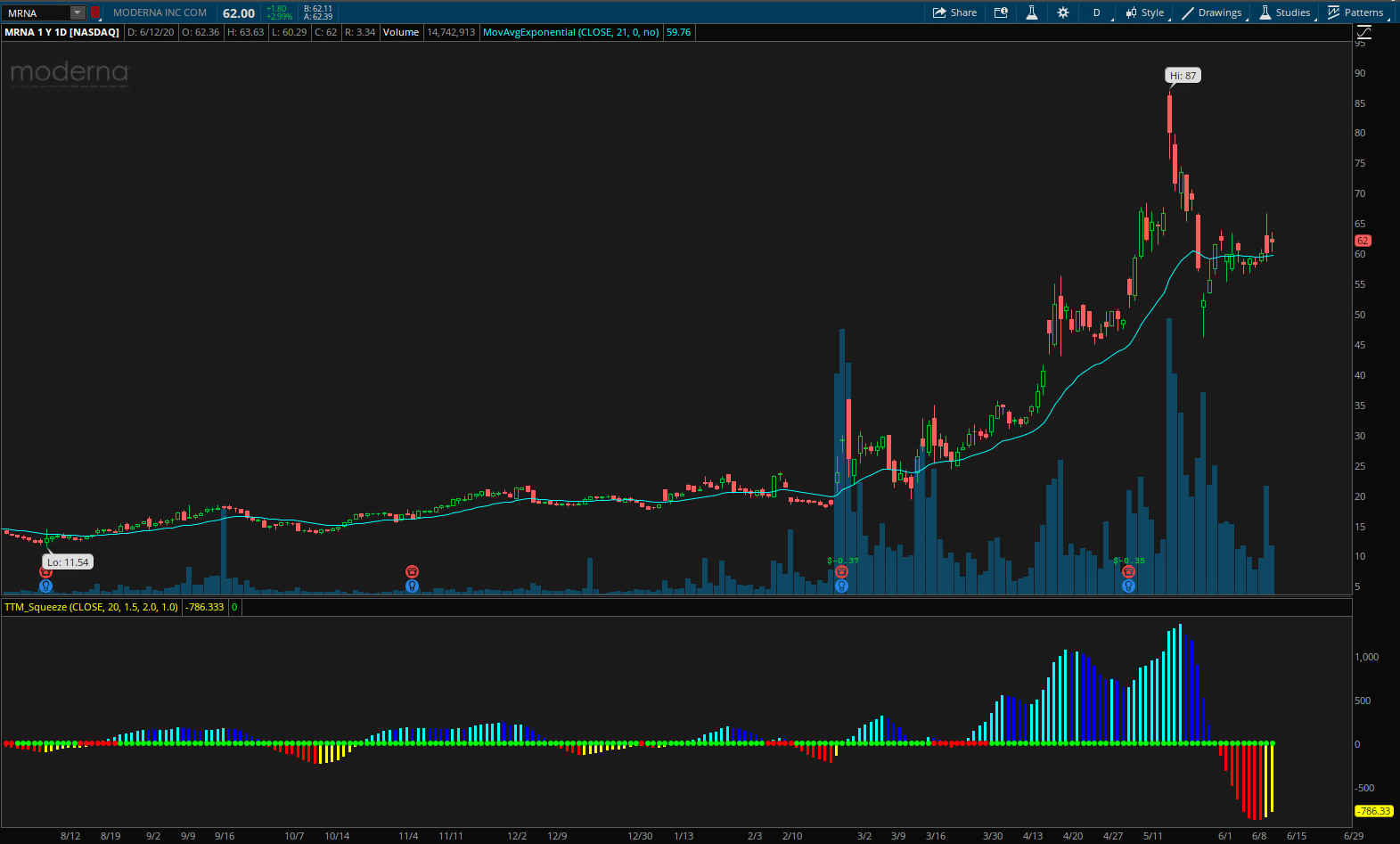 Source: thinkorswim
In other words, in this consolidation period… the TTM Squeeze (below the price chart) may be signaling MRNA can run higher very soon. If it breaks above the zero line… I wouldn't be surprised it it reaches highs.
On the 4-hour chart, the TTM Squeeze actually indicated a buy signal to me on Friday…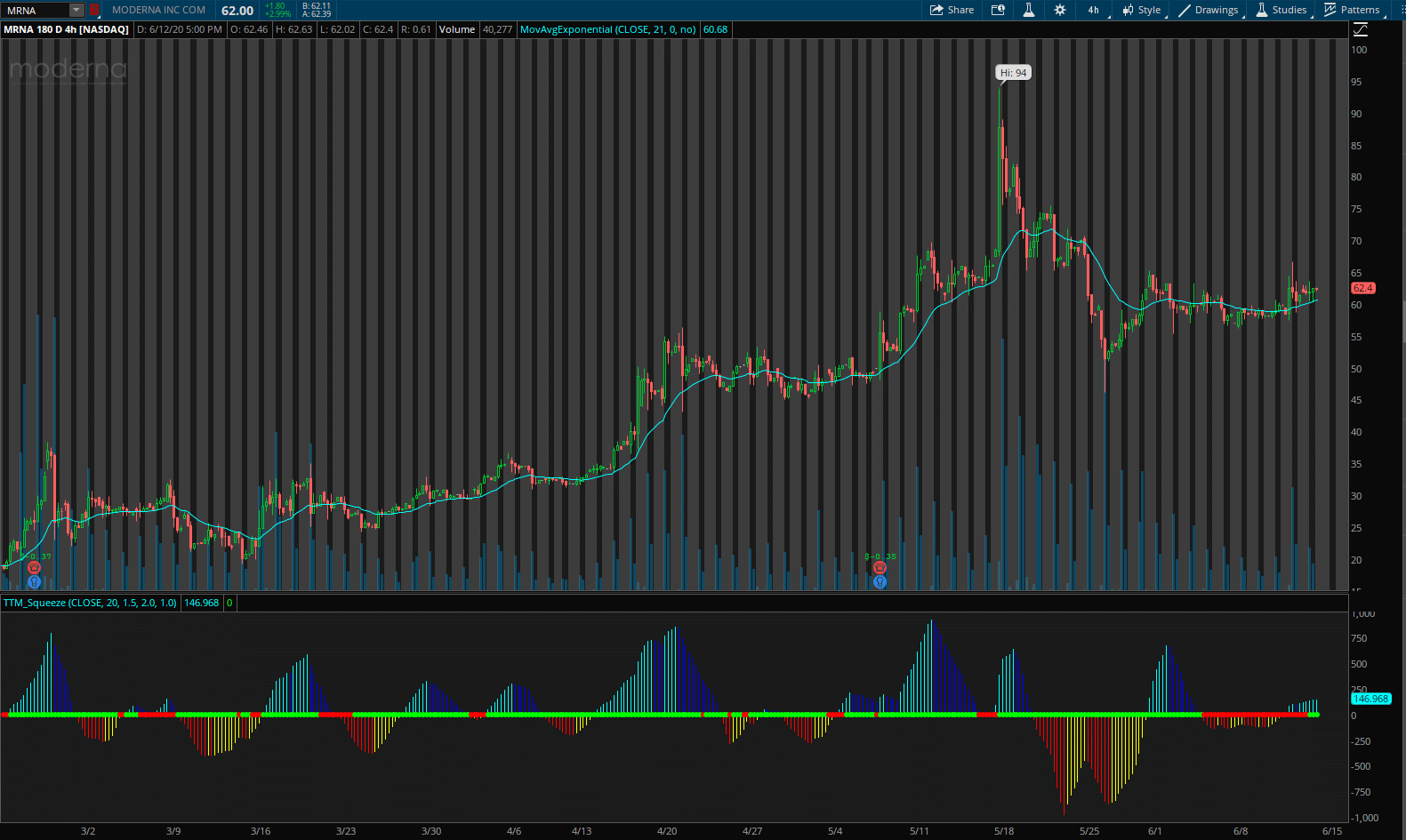 Source: thinkorswim
With TTM Squeeze breaking above the zero line… I wanted to enter a bullish position n MRNA.
Now, there is also a catalyst working for MRNA.
With COVID-19 fears rising again, some traders may pile into this stock… thinking there may be some positive developments in its potential treatments.
So what did I decide to do?
Well, I bought calls.
Here's what I sent out to subscribers on Friday at 2:26 PM ET.
This morning on the watch list I had MRNA which hit the scanner yesterday. This name has held up well despite the market and might be a nice candidate for a run with the reemerging COVID-19 fears. Additionally, it has squeezes on several time frames so I am taking a small shot here. Bought MRNA June 19 $65 Calls – $2.40
Right now, I'm focused on this position…
And patiently waiting for other "smart money" trade ideas to show up on the scanner.
If you ask me, my process is pretty simple.
I look for "smart money" activity, then look at the charts and wait for my signal.
I'm going to continue with this at these levels because I believe it's one of the easier ways for me to uncover trade ideas.
WE MAY HOLD SECURITIES DISCUSSED. RagingBull has not been paid directly or indirectly by the issuer of any security mentioned in the Services. However, Ragingbull.com, LLC, its owners, and its employees may purchase, sell, or hold long or short positions in securities of the companies mentioned in this communication.
DISCLAIMER: To more fully understand any Ragingbull.com, LLC ("RagingBull") subscription, website, application or other service ("Services"), please review our full disclaimer located at https://ragingbull.com/disclaimer.