It's been a wack market… but stocks are finally catching a much-needed bounce today. However, from what I've seen thus far, the theme has been big days up are followed by some nasty selling.
At these levels, in my opinion, there could be a huge opportunity for those brave enough to short at this level, the gap up is based almost solely on Trump's comments that things should reopen in weeks, not months.
I think at this point the market is clinging onto some hope of that, but there isn't much evidence right now to suggest that's gonna happen. 
For me personally, I'm not going to jump the gun. Instead, I'll remain patient and continue to follow the smart money. Not only that, but I'll remain locked and loaded — tapping into the elite trader's mindset.
At these levels, there are a few indicators I'll be keeping my eyes on… and it's as easy as just being at the right place at the right time.
When it comes to executing their trades, smart money tries their best to operating covertly. However, there is technology out there that detects their every move. 
I find that it's easier to figure out exactly what Wall Street's largest players are doing by following the paper trail, rather than listening to what the talking heads are saying. The thing is, if you really want to follow the whales… you need to understand a few order types.
The Iceberg Order
Since these Wall Street fatcats have large amounts of cash and can throw down millions of dollars on stock trades… they want to hide their moves.
Why?
It could impact the price of the stock or exchange-traded fund (ETF), and their competitors may look to front-run their ideas. So it's advantageous for them to use order types such as the iceberg order.
So what's an iceberg order?
Well, it's perfect for the smart money because it's designed for players who submit large volume orders, whether it be for stocks, futures, options or warrants. This order type allows them to conceal their full position size.
In other words, it looks to prevent market participants from jumping the gun because they know the demand is popping up.
Quite simply, all they have to do is place their order and change the display size.
Here's how it works, they could look to buy 1M shares of a stock… but only display 1,000 shares. In other words, they would sit on the bid and the order size that's shown would only be a measly 1,000 shares.
So it's like a game of poker… they have pocket Aces, but don't let people know, so they get less aggressive with their betting.
Let's take a look at another order type these players use.
The VWAP Algorithm
The VWAP — Volume-Weighted Average Price — aims to provide market participants with the "best" price. Basically, the trading platform calculates a price based on the volume for a specified period.
In real-time, the algorithm continuously calculates the price from when you submit the order until the close of the market. Sounds great, right? These Wall Street fatcats can just place a VWAP order and step away from the desk, and let the computer do the rest.
The thing is, the market knows what the VWAP is at all times, so it's a little less covert for these players. Just take a look at the VWAP line on Facebook (FB).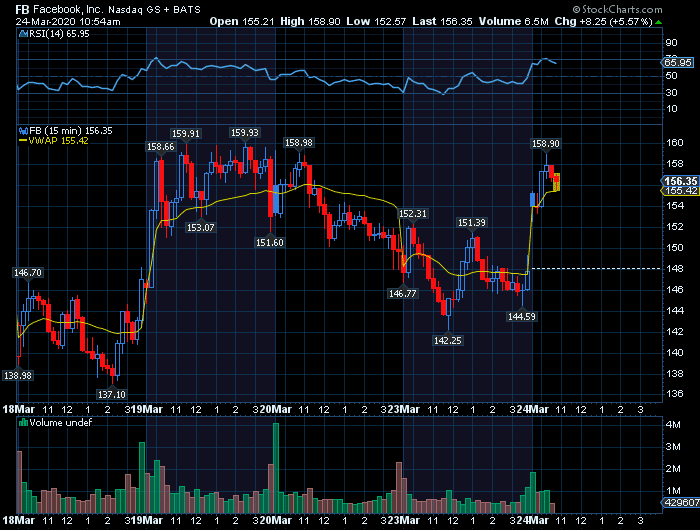 As you can see, the VWAP tracks the movements of stocks very closely. However, if there's a break above the VWAP line… it's an indication someone is buying and it could run-up… and if it breaks below… the stock could head lower.
So while the smart money does use the VWAP and iceberg order… it doesn't provide them with enough anonymity.
Instead, they've turned to place block trades in the dark pools. 
Block Trades
Quite simply, a block trade is a massive order. However, the actual trade goes a bit differently. It involves a large order that goes off at a specified price and is conducted between two parties (it could be between Wall Street whales, investment banks, hedge funds, or other investment funds).
Since the mathematicians and computer scientists run amok on Wall Street, the smart money has to play outside the open market to prevent the impact on the stock price. Of course, this is done so they can get a better price and not let the financial watchdogs uncover their dirty trades.
However, these block trades can be legally made outside the open market through a private purchase agreement, something you and I simply can't do because we don't have that kind of money.
Yet again, the Wall Street elite wins the battle. However, they have not won the war. 
Why?
There are proprietary scanners that allow you to detect the moves of Wall Street's largest players. So we know exactly where they are trying to find ways to make money in the market.
A little Dark Pool activity is beginning to creep back in I've noticed. Nothing that is worth getting super excited about just yet but it's encouraging nonetheless. However, I'll continue to follow the block trades… and when things stabilize, I'll be ready to enter a high-conviction trade.