Yesterday was the worst sell-off the market witnessed in three months…
And it was actually one of the top 25 worst performances in history.
Of course, there's been an influx of new retail traders who have just been buying random stocks left and right…
And that was a wake-up call for them.
Right now, I believe it's important to remain cautious and focus on what some of the brightest traders and investors on the street are doing…
The financial institutions and hedge funds… also known as the "smart money".
Today, I want to reveal to you some "smart money" traders I saw go off in the dark pools… and why they're on my watchlist.
I know what you're thinking… 
What stocks are "smart money" traders and investors getting into at these levels?
There were some names that came across the dark pools activity scanner yesterday… even though it was a low activity day, probably because traders and investors were more focused on the market action.
Moderna Inc (MRNA)

MRNA pulled back after a quick morning run yesterday but didn't fall apart. They are still a name out there in the running for Covid-19 treatments. This has potential for a bounce, in my opinion.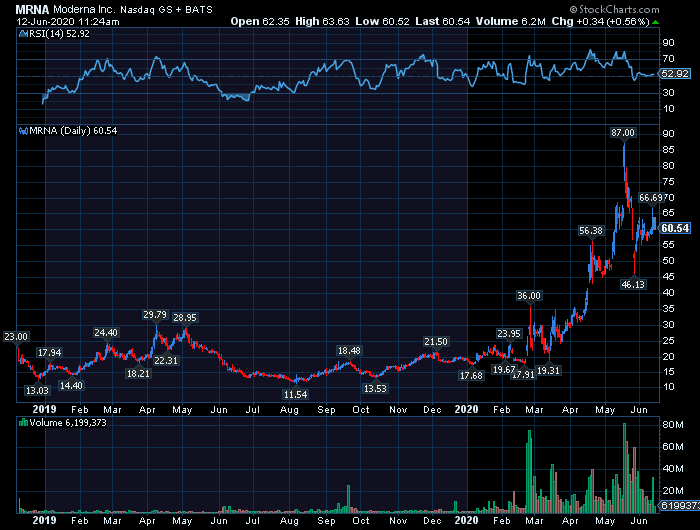 Source: StockCharts
With MRNA, if it does become successful with its Covid-19 treatments, I wouldn't be surprised if it makes a move and breaks out of recent highs.
Vale SA (VALE)

VALE pulled back with the rest of the mining sector but has been in on the scanner several times and these were on market sweeps, which is a strong order type in my opinion. This one is worth watching.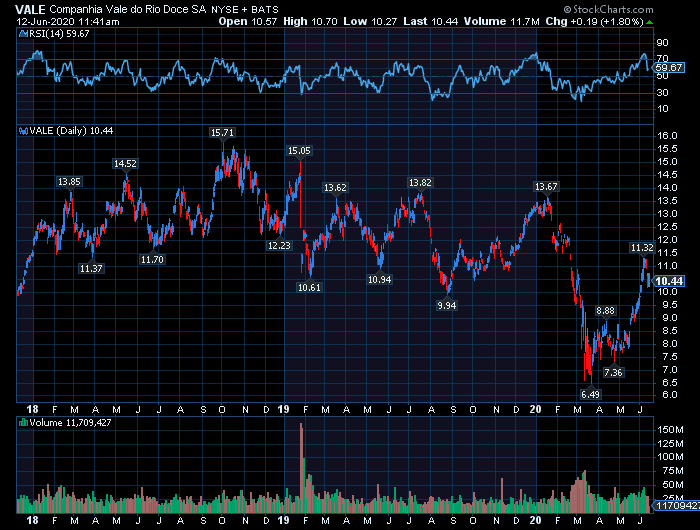 Source: StockCharts
Right now, VALE is more than 50% off its March lows, and some key levels above at just under the $14 level. If things start to open back up, I wouldn't be surprised if this makes a move back up there.
Boston Scientific Corporation (BSX)

Boston scientific is sitting right above this entry. I haven't seen them on the scanner recently and they hit twice yesterday. Sitting at the bottom of their range, this might be a good entry.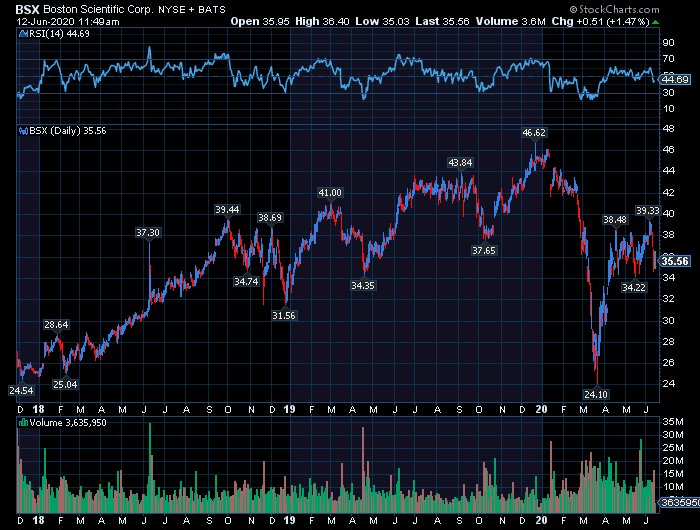 Source: StockCharts
BSX has got a nice bull flag pattern setting up on the daily, so I'll be keeping an eye on this one.
Now, if I notice any entries or changes… I'll be sure to let my subscribers know about this.
Stay tuned for my next lesson.
WE MAY HOLD SECURITIES DISCUSSED. RagingBull has not been paid directly or indirectly by the issuer of any security mentioned in the Services. However, Ragingbull.com, LLC, its owners, and its employees may purchase, sell, or hold long or short positions in securities of the companies mentioned in this communication.
DISCLAIMER: To more fully understand any Ragingbull.com, LLC ("RagingBull") subscription, website, application or other service ("Services"), please review our full disclaimer located at https://ragingbull.com/disclaimer.