Stocks have been pretty crazy lately… I mean take a look at some of the wacky moves in some companies that are going bankrupt.
Right now, there's a lot of noise, in my opinion…
And I think now's the time to only focus on high-conviction trade ideas.
For me personally, I believe these ideas can be found in the dark pools.
Today, I want to show you a few stocks that came up on my dark pool scanner… ones that are on my radar…
And may look to trade.
Right now, I'm noticing a lot of interesting activity in the dark pools… and there are 3 stocks on my radar currently.
Here's what I sent out to subscribers this morning…
Luckin Coffee (LK)

This is the first time I've seen this name on the scanner. It has earning hitting sometime tomorrow and could run up into that. It's made a big move from last week's gapping up last Friday. It's sitting at the .618 retracement of its last large move. I might be worth a short-dated option to see a move into earnings.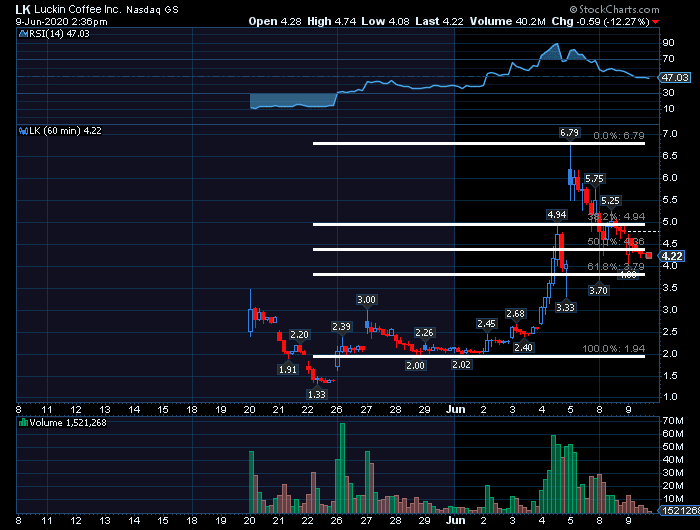 Source: StockCharts
Right now, the key level I'm keeping an eye on is right around $4.
Pinterest (PINS)

PINS has hit the scanner for several days in a row now and is looking like it's at a good price having pulled back to the 21 ema on the hourly.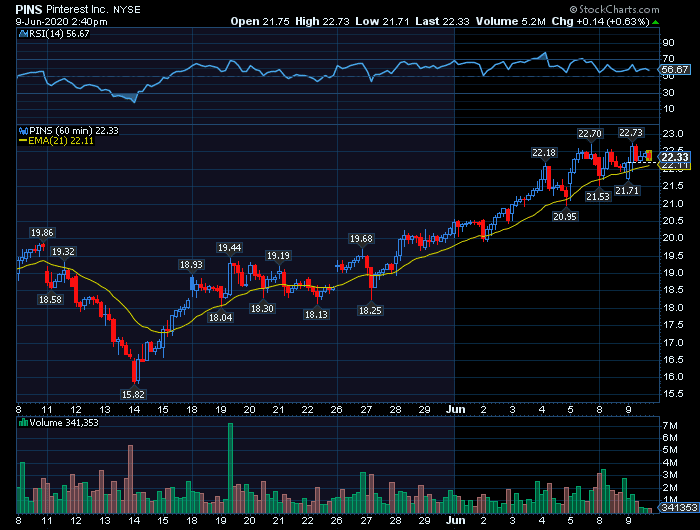 Source: StockCharts
With PINS, it's holding the uptrend line fairly well (the yellow line in the chart amove). I think if it holds, it could build momentum and break out from recent highs…
So I'm keeping this on my radar.
Slack Technologies (WORK)

I like WORK as it showed up on the scanner 3 times yesterday and I'm looking to get into the July 17 $32 Calls but I want it to pull back a bit more to enter.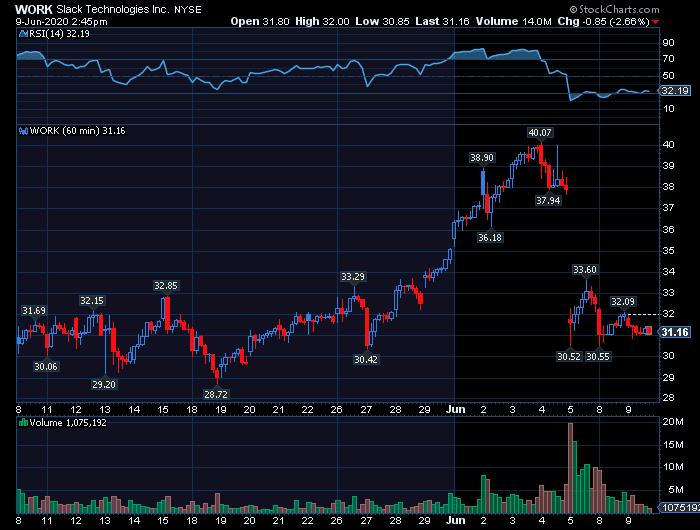 Source: StockCharts
WORK shares have pulled back quite a bit from recent highs… and I think it may have some support around the $30 level. I'm going to keep this on my master watchlist and potentially play this for a bounce.
In this market environment, I'm going to continue to follow the financial institutions and the "smart money" to try and figure out where they're placing their bets.
WE MAY HOLD SECURITIES DISCUSSED. RagingBull has not been paid directly or indirectly by the issuer of any security mentioned in the Services. However, Ragingbull.com, LLC, its owners, and its employees may purchase, sell, or hold long or short positions in securities of the companies mentioned in this communication.
DISCLAIMER: To more fully understand any Ragingbull.com, LLC ("RagingBull") subscription, website, application or other service ("Services"), please review our full disclaimer located at https://ragingbull.com/disclaimer.