We know there are a lot of shady dealings that go down behind closed doors and everyday traders and investors like you and me are not privy to this information. However, we should be… especially if it's a publicly-traded company.
You may think this doesn't affect you whatsoever, but in reality, it does… and you should care. 
Imagine a company knows their revenues and earnings are set to drop, but turns around and tells the general public it's in perfect financial health. As traders, we have to take what the company says at face value because a lot of the times, there's nothing else we can base it on.
However, there's one thing that I do focus on: order flow. If I see massive orders going off in a stock, it tells me someone knows something we don't… and it's time to follow them into the trade. Today, I want to expose SeaWorld Entertainment (SEAS) and how they flat-out lied to investors… and what you can do about these shady players.
Usually, when people think of SeaWorld they think of 2 things: Shamu and roller coasters. Watching giant whales do mind-boggling tricks for entertainment, as spectators sit in the splash zone… then head onto a heart-dropping roller coaster. It's often thought about as a happy and fun place.
Not often does the average person think differently about it.
However, people saw SeaWorld in a whole different light after a specific movie premiere at the Sundance Film Festival in 2013. A movie that SeaWorld and its CEO said wouldn't impact the company's business or reputation. The Nasdaq would reveal otherwise.
Spoiler alert: SeaWorld Entertainment Inc. and its former CEO are shelling out $5 million for committing fraud.
If you're interested, the film is Blackfish. The focus of the entire movie is centered on one of SeaWorld's biggest attractions, the orca show. Tilikum was an orca (killer whale to us regular folks) became more famous for its killings than its themed SeaWorld shows.
The cat was out of the bag and employees started talking. The documentary was born and reported the events and treatment of the majestic animals received… and it was straight up ugly. So much so the orcas were fed up, and caused the deaths of 3 people. 
It really puts a spotlight on how the care of these animals deeply affects how they behave. That orca may kill for food. For protection. But not for violence and murder. And that SeaLand and SeaWorld are responsible for what happened.
Prior to the movie hitting theaters in July 2013 the executives of SeaWorld were concerned about how the film would impact the company. After the documentary hit theaters attendance dropped.
However, do you think SeaWorld told the press about how their revenues would drop… NO. In fact, they stated the "attribute no attendance impact at all to the movie."
By the fall, SeaWorld had to start measuring the harm the documentary did to its reputation. The CEO described the fall in SeaWorld's reputation as "painful". Many SeaWorld officers and employees genuinely believed the documentary harmed the company's reputation.
But investors were still kept in the dark.
By late 2013 the documentary went viral and during this time a senior officer described SeaWorld's reputation as "positively radioactive".
But the CEO of SeaWorld wasn't about to be honest with the public. He stated while discussing the company's financial performance, "As much data as we have and as much as we look, I can't connect anything really between the attention that the film has gotten and any effect on our business." 
In early 2014 he went on record again saying "[T]here is no truth to the suggestion that SeaWorld's reputation or business has been harmed by Blackfish."
SeaWorld continued to deny the Blackfish effect as it was dubbed. They kept it right on up to August 13, 2014. Finally acknowledging that Blackfish resulted in declining attendance for the company.
Those were all lies… and guess what happened to the stock?
And with this, the axe dropped decreasing the company's stock price by 33% and reducing SeaWorld's market cap to around $830 million. The announcements lead to analysts to advise to selling SeaWorld stock.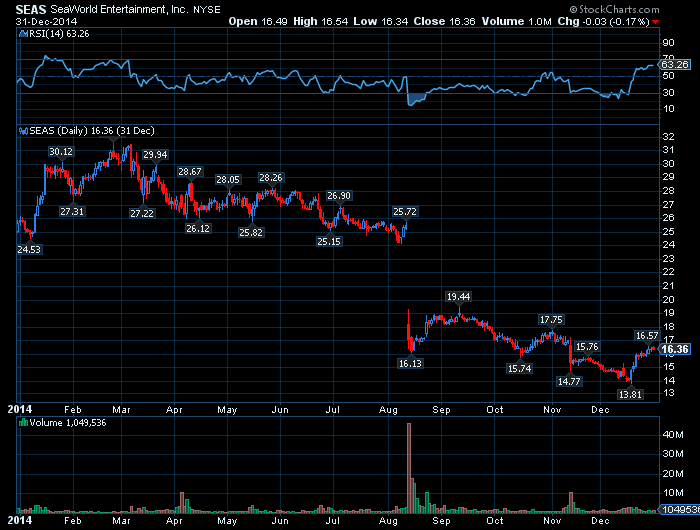 SeaWorld is now finding it's under fire by the SEC. 
The Co-Director of the Enforcement Division stated that "this case underscores the need for a company to provide investors with timely and accurate information that has an adverse impact on its business. SeaWorld described its reputation as one of its 'most important assets,' but it failed to evaluate and disclose the adverse impact Blackfish had on its business in a timely manner".
SeaWorld will be paying a $4 million penalty to settle fraud charges for misleading investors about the Blackfish effect. The CEO will be paying a $1 million disgorgement and penalties. 
Do you think no one caught wind of this news earlier and sold ahead of the news? I definitely don't… and I think they covertly sold their shares through dark pools.
What are dark pools?
Watch this exclusive training session below, and you'll know how to start profiting off the backs of Wall Street's largest players.