Dark pools are private venues that only elite traders and investors have access to, you know the "smart money".
It's no wonder these "secret" venues have become popular amongst the largest players in the game. You see, when you close off the rest of the trading world, these Wall Street fat cats are able to hide their trades and make it difficult to figure out exactly what it is they're doing.
Today, I want to walk you through exactly how these dark pools work and reveal a trade idea I sent to my clients yesterday.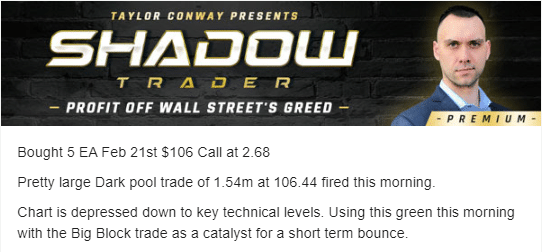 So what exactly are dark pools?
Quite simply, they're trading venues that are not transparent… and dark pools are not like your traditional exchange. When you send an order on NYSE or Nasdaq — these are considered "lit" exchanges — all the information is shown… it's there for everyone to see. In other words, the price and amount of shares you want to buy or sell are visible.
I'm not naive and I know there is a lot of information these banks want to hide. Of course, they don't want the competition to figure out why they're sizing up in a position.
The smart money uses dark pools because it allows them to operate in the shadows. Not only that, but they could automate their trading and use high-frequency trading (HFT) algorithms… so they could sit back and go about their days.
But the thing is, these fat cats don't know there is technology out there following their every move, and oftentimes… it detects their massive trades — and many times, it's AHEAD of a major headline.
We all know Wall Street "insiders" place well-informed bets using proprietary information all the time.  I'm talking about non-public information that everyday traders like you and I are not privy to.
So they do everything in their power to hide their trades. Guess what? The SEC has made it so easy for them to hide this information by not regulating dark pools… and they have been one of the "best" places to cover their tracks, so they think.
What the smart money probably don't know is even though their trades are anonymous on dark pools, traders like me could still figure out their every move. While it's true we don't know exactly who exactly is behind the massive block orders going off in dark pools every single day…
We can still figure out how many shares they want to buy and at what price.
Let me show you exactly how I use dark pool information to my advantage and effortlessly generate trade ideas. 
Check out the trade idea I sent out to my clients yesterday. Note: At the time of this writing I am long EA calls.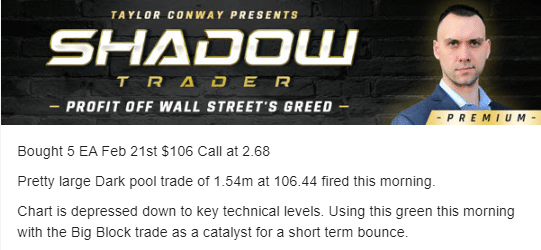 So I spotted a 1.54M share block trade in Electronic Arts at $106.44. That's more than a $100M bet on the stock. Now, if someone throws down a massive bet like that, I'm going to dig deeper into the stock.
I decided to check out the chart… and it looked like they were playing for a bounce.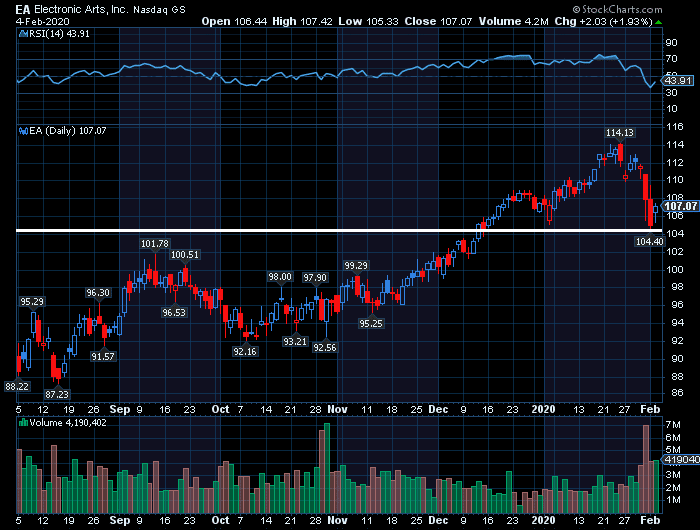 Electronic Arts (EA) reported earnings and got smoked. Not only that, but it saw some analyst downgrades. However, when you look at the chart above, it fell right to a key level and started to bounce.
The white line acted as a support level right around $104. 
So what did I decide to do?
I took a stab at the trade and bought calls in EA, instead of stock. You see, if I bought shares, that would cost me more than $50K to control the same amount of shares that I am with the calls. The calls I purchased were just $2.68 a piece, and with my position size it only cost me $1,340. 
A heck of a lot cheaper than buying shares.
I'm still in this trade right now, but I thought it would be beneficial to your trading if you understand the thought process behind using dark pools.
Knowing what you know now… imagine you were able to spot these massive block trades all the time… how much easier finding trade ideas would be for you?
If you want to learn more about how dark pools work and how I consistently use the information to uncover winners, then click here to watch this exclusive training session — it's jam-packed with the techniques I used to become a 7-figure trader.